My mother's cranberry salad has been dearly missed since 2012 when I stopped consuming animals. I came across this article today and guess who is having Cranberry Salad this year. Yep, me. I will copy and past part of the article here and provide the link to its original posting.
It's probably no coincidence that gelatin rhymes with skeleton—because that's exactly what it is—animal bones (along with animal skin, hooves, tendons, ligaments, and cartilage all boiled together into a goo that's added to all kinds of candy and baked goods). Luckily, there are plenty of easy-to-find products that act like gelatin, so that baking doesn't have to be bad to the bone.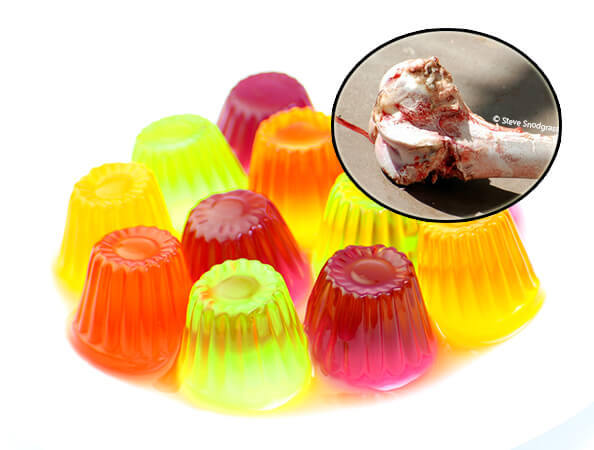 This flavorless gelling agent, derived from cooked and pressed seaweed, is available flaked, powdered, or in bars. For best results, grind the agar-agar in a coffee grinder or food processor and then cook it, stirring it regularly until it dissolves. When used in a recipe, agar-agar sets in about an hour and doesn't require refrigeration to gel. For a firmer gel, add more agar-agar, and for a softer gel, add more liquid. And don't worry if you don't get it right the first time—you can fix a faux pas simply by reheating the gel. Here's a general guide on how to use agar in recipes:
• Substitute powdered agar-agar for gelatin using equal amounts.
• 1 Tbsp. of agar-agar flakes is equal to 1 tsp. of agar-agar powder.
• Set 2 cups of liquid using 2 tsp. of agar-agar powder, 2 Tbsp. of agar-agar flakes, or one bar.
• Keep in mind that highly acidic ingredients, such as lemons, strawberries, oranges, and other citrus fruits, may require more agar-agar than the recipe calls for. Also, enzymes in fresh mangoes, papaya, and pineapple break down the gelling ability of the agar-agar so that it will not set. Cooking these fruits before adding them to a recipe, however, neutralizes the enzymes so that the agar-agar can set.
Also known as Irish moss, this seaweed, found in coastal waters near Ireland, France, and North America, is best when used for making softer gels and puddings. To prepare carrageen, rinse it thoroughly, and then soak it in water until it swells. Add the carrageen to the liquid you want to set, boil for 10 minutes, and remove the carrageen. One ounce of carrageen will gel 1 cup of liquid.